"FINALLY,
A TOBACCO ALTERNATIVE THAT DIPS LIKE THE REAL THING"
"FINALLY, A TOBACCO ALTERNATIVE THAT DIPS
LIKE THE REAL THING"
Keep The Ritual
Buy Now
No Tobacco
Leaf or Stem
Edible Green
Leaves
Pharma-Grade
Nicotine
Food-Grade
Ingredients
"No tobacco leaf. Same nicotine. If you're a guy like me who likes to dip, but also doesn't want to chew tobacco leaves anymore, this is the way to go."
"Black Buffalo relates to me in a special way, they are a family, and I'm very excited to be joining it for years to come. Their determination to 'Charge Ahead' is something I challenge myself to do in my personal and professional life."
"Black Buffalo has gotten me completely off my 2 cans of chew a day!! Kicking the habit of grabbing a chew whenever I needed to do something. The Black Buffalo gave my mind the same fulfillment in a much different way"
Everything you love.
Nothing you don't.
POUCHES
LONG CUT
Bright and crisp with a mellow touch of vanilla
Long cut
Rich citrus with hints of raspberry and smoke
Long cut
"BLACK BUFFALO HAS SUCCEEDED WHERE EVERYONE ELSE FAILED."
INGREDIENTS YOU KNOW
Cured Edible
Green Leaves
Salt
Sweeteners
Cured Edible
Green Leaves
Salt
Sweeteners
US vs. THEM
ZERO
TOBACCO LEAF
FOOD-GRADE
INGREDIENTS
SAME NICOTINE
CONTENT
BOTH LONG CUT
& POUCHES

5 FLAVORS
SYNTHETIC
NICOTINE
FOOD-GRADE
INGREDIENTS
PREMIUM
PACKAGING
BOTH LONG CUT
& POUCHES
BADASS
BRANDING
SATISFACTION GUARANTEED.
NO QUESTIONS ASKED.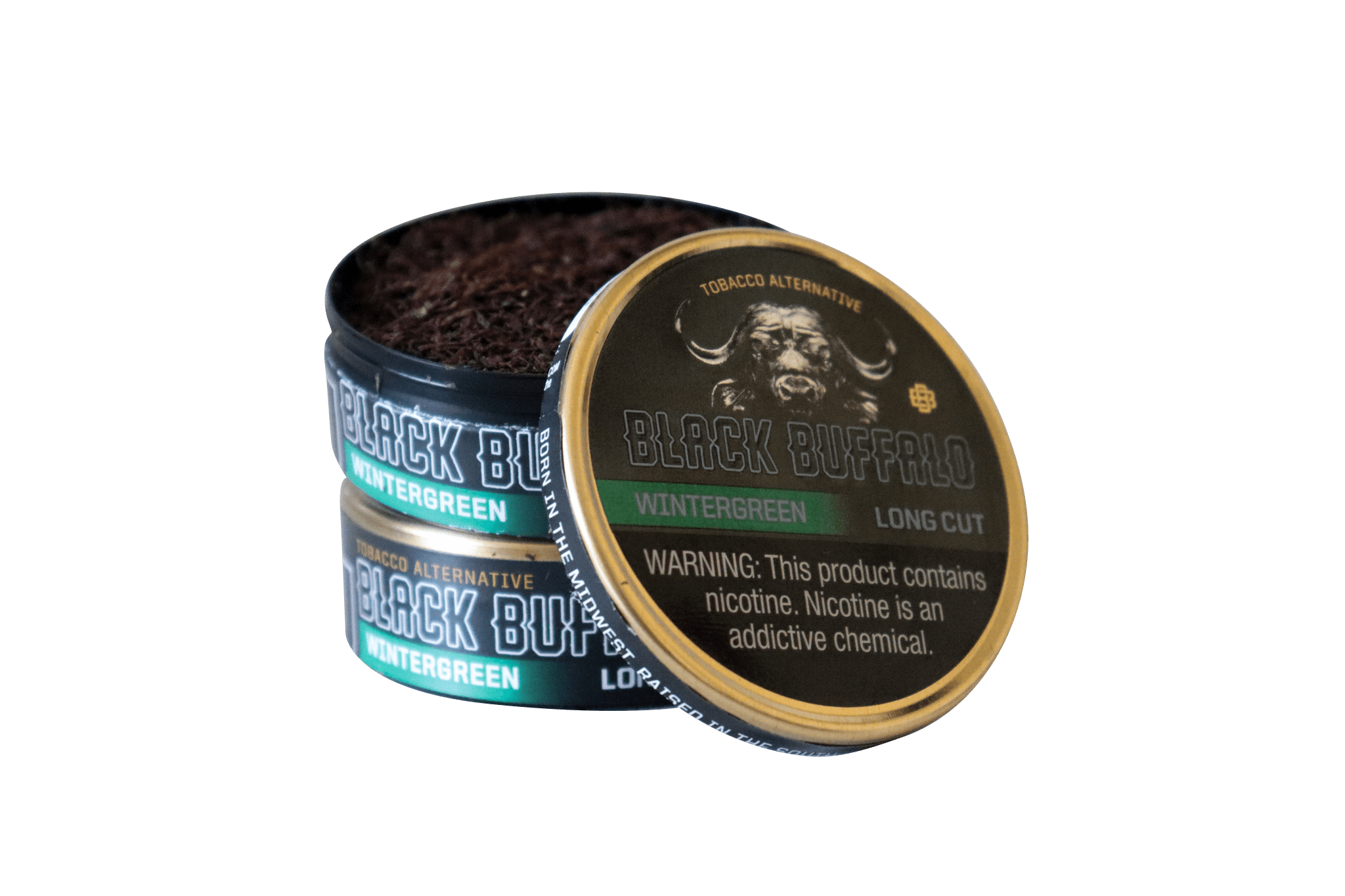 FREQUENTLY ASKED QUESTIONS
Does Black Buffalo really dip like the real thing?
Yes we do. In fact, we guarantee it. We spent 5+ years and 20,000+ hours of R&D to create a smokeless tobacco alternative that we as long-time dippers would switch to ourselves.
---
What is a tobacco alternative?
As a tobacco alternative, Black Buffalo contains no tobacco leaf or stem. Instead, our base ingredient is an edible green leaf. Along with food-grade ingredients, we add pharmaceutical-grade nicotine for the same burn you crave.
---
Is Black Buffalo Harmful?
The FDA limits our ability to make any "harm reduction" or "modified risk" claims without extensive testing that can take years and cost millions of dollars. However, here's what we can say: Black Buffalo has no tobacco leaf, no tobacco stem, and we don't fire-cure or ferment our leaves. When tobacco is fire-cured and fermented in traditional dip, it leads to the formation of tobacco-specific nitrosamines (TSNAs) and polycyclic aromatic hydrocarbons (PAHs). We encourage you to read up on TSNAs and PAHs, their levels in traditional smokeless tobacco products, and their effects on the human body. After you do, you'll be in a much better position to make up your mind on the relative safety of Black Buffalo. To reiterate: Black Buffalo does not contain any tobacco leaf or stem and we don't fire-cure or ferment our leaves.
---
How old do I have to be to buy Black Buffalo?
21. All Black Buffalo products are made for existing adult tobacco consumers who are at least 21-years-old.
---
How much does shipping cost?
We ship via UPS to select states in the U.S. for as low as $3.00 per order.
---
How long will it take for my order to arrive?
It depends on where you live, but we typically fulfill orders within 24 hours after they're placed. You will receive shipping confirmation and a tracking number as soon as your order has been sent.